Cigarette Ligher
---
Forum member WrenchWench put a lighter in her side cover for her CB to plug into. I thought to myself, "Hey, that's a cool idea. It'd be nice to have a place to plug in the cell phone, GPS, things like that. I think I'll put one in too!"

Later I realized that it was just a lot easier to light a cigarette at 80mph with a 12V lighter as apposed to my Zippo!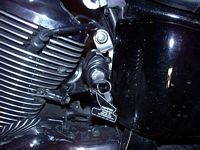 The lighter is a standard generic lighter with a 90° bracket from Autozone. Take the lighter out of the bracket and take a hammer and make the bracket flat. Then just cut the required amount of metal to allow one of the holes to line up on the upper screw of the ignition assembly (the plastic cover just has one screw, then slides off the ignition switch).
For wiring, I tied it directly into the battery with a 20 amp inline fuse and it's lit every cigarette I've asked it to.
The only problem with this setup is that it is outside, so everytime it rains or I wash the bike, it gets a little water in it, then the back contact rusts. The lighter dosen't care if there's rust or not, but any electrical accessory does. The result is, I can't plug anything into it. My solution is to put a 4 way extension in my tank bag, and have it plug into my Gerbing glove harness. That way I can quickly toss all the electronics (GPS, Cell Phone, MP3 playerS, etc.) into the tank bag, unplug and take them with me. The 4 outlet extension costs about $9 from Checker, and I had a spare plug for the Gerbing harness. I think they are about $3 from Radio Shack.
---
All content © 2003 Christopher McDonald